Johnny Cash
Johnny Cash start drinking heavily as his career was taking off in the late 1950s. He also got addicted to amphetamines and barbiturates. He was arrested multiple times and each time his stay lasted not more than a night. He ended alcohol and drug use for a period of seven years claiming that the birth of his son inspired him to end his dependence. He began using amphetamines again in 1977. Once again addicted he entered the Betty Ford Clinic in Rancho Mirage, CA for rehab. Though he managed to stay off drugs for several years he was dependent once again and entered Nashville's Cumberland Heights Alcohol and Drug Treatment Center. For final rehabilitation he entered the Loma Linda Behavioral Medicine Centre in Loma Linda, California in the year 1992.
Mindy McCready
Mindy McCready was a multi platinum selling country music star. She had a long time history of alcohol and drugs. She attempted suicide multiple times. She attempted suicide in July 2005 and was found unconscious in a hotel lobby in Indian Rocks Beach, Florida. She was also hospitalized for a drug overdose with alcohol. In September 2005, while she was pregnant she attempted suicide again by overdosing on antidepressants. In 2008, paramedics were called to her home after an apparent suicide attempt. Again in May, 2010, she was hospitalized in Cape Coral, Florida, for a possible drug overdose. Later she shot herself in the head on her front porch. It was on this same front porch that her boyfriend killed himself the previous month.
Dylan Marlais Thomas
Dylan was one of the 20th century's most influential Welsh poets. He is known for "Under Milk Wood" and "Do not go gentle into that good night". He was known for his drinking habits and his health rapidly deteriorated as a result. He celebrated his 39th birthday and the success of 18 Poems. A few days later while drinking beers started to feel ill. He slipped in to a coma and died four days later.
Francis Scott Key Fitzgerald
He was an American writer of novels and short stories. He coined the term Jazz Age and was an alcoholic since his college days. During the 1920s he was notorious for his extraordinarily heavy drinking, that left him sick and ill by the late 1930s. A decade later he had a heart attack, and while awaiting a visit from his doctor, Francis collapsed and died.
Ernest Miller Hemingway
Ernest Miller Hemingway was a famous American novelist and short-story writer. He was part of the 1920s expatriate community in Paris known as the Lost Generation. From a very early age Hemingway had been a heavy drinker and as a result succumbed to alcoholism in his later years. By then he had suffered from both physical and mental problems. Soon after being released from a mental hospital he committed suicide at his home with a shotgun.
Truman Capote
The American novelist and short story writer Truman Capote admitted to his alcoholism and homosexuality openly. Many of his short stories, novels and plays are literary classics, including the novella Breakfast at Tiffany's and the crime novel In Cold Blood .Capote's drunken behavior is legendary, and although he would stop drinking for several months at a time, he could not stay away from alcohol. He underwent treatment in the 1970s, but his health was so compromised that he died in 1984 at the age of 59. Capote died in Los Angeles at the age of 59 from liver cancer. The coroner's report states the cause of death to be liver disease complicated by multiple drug intoxication.
Mel Gibson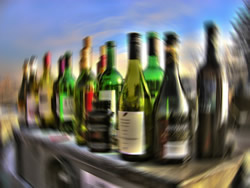 Mel Gibson began drinking at a very early age of 13 and has reportedly said that alcoholism runs in his family. As a manic-depressive, alcohol aggravated his condition, and his behavior had prompted accusations of homophobia, racism, anti-Semitism, sexism, and misogyny. In the past, he had sought professional help and attended AA meetings. In 2006, he pleaded no contest to a drunk-driving charge and admitted to making anti-Semitic remarks during his arrest. His sentence of three years of probation included mandatory AA meetings.
Lindsay Lohan
Like many child actresses, she turned to alcohol as a response to her high-pressured life. TMZ reports that Lohan has been drinking 2 liters of vodka a day for some months now. She reportedly will wake up and start drinking first thing in the morning only to continue for the rest of the day. It made her violent which is apparently what happened during the nightclub incident in NYC. Lindsay has to work hard to stay sober and has already had one failed attempt with rehab. She was forced to wear an alcohol detection bracelet to monitor her alcohol consumption.
Diana Ross
She was a role model for African-American women in the 60's, 70's and 80's. She voluntarily checked herself into a rehab center in 2002 after an embarrassing drunk driving stint in Arizona. People realized that Diana was an alcoholic. Though she had tried hard to find a way to keep her drinking under control her public relations team has not been able to clean up the mess caused by her excessive addiction to alcohol.
Melanie Griffith
Melanie Griffith is a famous celebrity alcoholic connected to two Hollywood hunks: Don Johnson and Antonio Banderas. For many years, she graced the big screen with roles that won her awards such as Golden Globe, yet, behind the scenes, she was indulging in drinking to deal with her success. She was almost fired from the movie "Working Girl" for arriving on the sets while high and finally ended up in rehab. She remained sober for a while giving the impression of a fully recovered alcoholic until late August of 2009. She returned to rehab once again amidst claims from her people that her stay was part of a long, planned out maintenance program.