Prevalence of Teen Drug and Alcohol Abuse
Since 1971, the NHSDA National Household Survey on Drug Abuse has been the primary source of reliable information on the prevalence of teen drug and alcohol abuse in population aged 12 years and older. Illegal drugs were made available to 29% of teens in grades 9 through 12 on school property. Drugs are readily available to 38.4% of teens in public schools as opposed to 22.4% at private schools. In most cases the street gangs are directly involved to sell the drugs.
Types of Drugs Teens Commonly Use/Abuse
According to recent statistics, the most commonly abused drugs by teens are Marijuana– 85.8%, Amphetamines– 55.4%, Cocaine— 47.8%, Barbiturates–46.3%, Crack–39.2%, LSD–33.1%, Tranquilizers–30.1%, Heroin–29.6%, Crystal meth–26.7% and PCP–24.2%.
How to Spot Addiction in Your Teen
Some of the following signs may indicate addiction.
Sudden changes in appearance, non standard piercings are the first signs that require your keen attention.
Unable to focus on education resulting in inconsistent or poor academic performance.
If your teen keeps awake during odd hours
Has lost appetite and / or lost weight suddenly.
Sudden loss of interest in hobbies he previously had.
Has mood swings and throws tantrums frequently.
Demands a hike in pocket money or frequently comes up with requests for additional money.
Find out if they are carrying eye drops, perfume, mouth fresheners to hide their addiction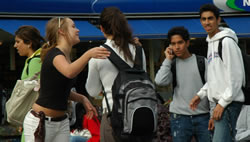 How Drug Use Affects the Teen
Depending on the type of drug addiction their brain or central nervous system may be damaged. Drug use may cause emotional problems such as anxiety, mood swings, suicidal thoughts, depression and so on. Also they are more likely to engage in behaviors such as fighting and stealing causing social problems.
Stats of Teen Drug Use and Adult behavior
4 to 14 percent of teenagers abusing drugs are involved in vehicle accident-related injuries or death and test positive for THC. Stats show that more than 40% of children will experience at least one divorce in their family at some point. Divorce affects teens and those who experience a divorce of their parents or have single parent are four times more likely to use drugs than teens that come from a family with both parents together.
Finding Rehab for Teens
The best one can do for their teen is seek immediate help of a teen drug rehab center with experienced counselors, trained to work with adolescents and their problems regarding home, parents, school, drugs, addiction and other issues.