Movies and Alcoholism
Though alcoholism is just like any other drug addiction, there is more social acceptability to an alcoholic, than addicts of other drugs. Many movies have often glorified the lives of alcoholics whereas we know of no single movie that has shown a drug addicts life as acceptable. Following are five top films about alcoholics.
House of Sand and Fog
The central character Kathy Nicolo in this movie is projected as a person who is selfish and is herself not much aware of it probably and this nature might have resulted due to alcohol abuse. Kathy is not only an alcoholic but also a recovering drug addict who lives in California with her brother who inherited the house from their father. With a wrecked marriage resulting in her husband abandoning her that left her depressed and dependent on drugs and alcohol. She keeps on ignoring a series of notices reminding her to pay taxes and one day she is forcibly evicted by the police from the house, putting it up for auction.
Who's Afraid of Virginia Woolf?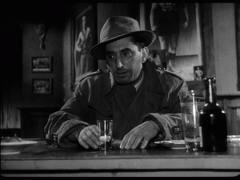 This movie was considered progressive and very controversial for Hollywood production at the time of its release for its explicitly vulgar language. The consequences of alcoholism are bluntly portrayed in this movie. The central character is a professor of History who starts drinking alcohol to deal with his mean wife. In the presence of an acquainted couple who were invited for drinks, there ensue arguments. It starts off as decent repartees of the professor's wife that gradually degenerates into vituperative verbal abuse of both her husband and her guests. Soon the guests start behaving like the hosts pouring out their buried resentments. The drinks that were consumed by them fuel further revelations.
Under the Volcano
The movie is set against the backdrop of a war in Europe and the Mexican fiesta Day of Death. The movie is about one day in the life of central character Firmin a British consul living in alcoholic disrepair in a Mexican town in 1939. His self-destructive behavior perplexes both his ex-wife and his idealistic half-brother. This movie is based on the 1947 semi-autobiographical account of the author, Malcolm Lowry.
The Lost Weekend
This film was based on Charles R. Jackson's novel about an alcoholic writer and won four academy awards. The central character in this movie evades a country weekend planned by his brother Wick and girlfriend Helen and spends a weekend alone with only his bottle for company. This was one of the first films that took a serious, uncompromising and a frank look at alcohol addiction that follows almost one week in the life of a chronic alcoholic, and a failed writer. It was a path breaking movie because Hollywood had seriously tackled the alcoholism and created social awareness of it as a disease.
Jack Lemmon in Days of Wine and Roses
In this movie Jack Lemmon and wife Lee Remick see their lives fall apart because of alcohol. Lemmon is an alcoholic who falls in love with Lee Remick and marries her. Since he wanted to share alcohol which was his passion with his wife, he systematically addicts her to it so they can share his passion together. Gradually alcohol becomes focus of their lives rapidly destroying their personal lives and Lemmon's professional life.