The National Institute on Drug Abuse (NIDA) started supporting scientific activity in behavioral treatment from the year 1992. It started developing the testing of behavioral therapies and spread its usage in community settings.
This approach towards behavioral treatment helps people in addiction treatment, encourages and rewards them to remain abstinent and sober, changes their behavior towards drug abuse, and increase their skills to handle circumstances and environmental that lead to relapse.
A number of effective behavioral therapies in addressing drug and alcohol abuse are listed below.
Cognitive-Behavioral Therapy
This method is developed to prevent relapse while treating alcohol and cocaine addiction. Research and stats have evolved a theory that proves that while developing behavioral patterns adaptive to substance abuse, cognitive-behavioral strategies play a vital role.
By applying Cognitive-Behavioral Therapy (CBT) it is easy to learn, identify and correct maladaptive behaviors. A wide variety of multiple skills can be used to stop drug abuse and address a range co-occurring problems.
Patients develop effective coping strategies that results in better self control by constantly weighing the positive and negative consequences of substance abuse.This type of approach remains effective long after completion of treatment.
Motivational Enhancement Therapy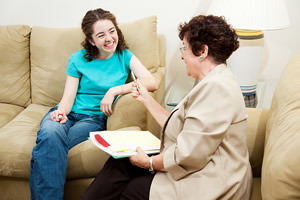 This type of therapy appeals and applies best to those individuals who are ambivalent about engaging in treatment and stopping their drug use. Motivational Enhancement Therapy or MET is a counseling approach that aims to evoke internally motivated change, which is very effective in many cases rather than guide the patient through the recovery process.
Typically MET consists of an assessment and subsequently followed by multiple one-on-one treatment sessions with a therapist. At the end of the initial session the patient is provided a feedback. This generally is engineered to stimulate a discussion about alcohol and drug use and eliciting self-motivational statements and building a resolve to combat addiction.
After strengthening motivation in the individual coping strategies are chalked out for situations that may lead to a relapse.
The role of MET is to engage drug abusers in treatment and not for producing changes in drug use.
Family Behavior Therapy
This therapy has demonstrated positive results in adolescents in various types of problems that include substance use, misconduct, mistreatment, depression, unemployment, and other issues. FBT involves the patient with another person who might be a live-in partner or a parent or a sibling.
This therapy engages families improve the home environment. Individuals are encouraged to develop behavioral goals for preventing substance abuse and in case of adolescents their parents are asked to set goals for effective behaviors.
Every session ideally begins with review of goals sets during previous sessions. Comparative studies show that FBT is more effective than counseling.