About Alcohol Abuse
Alcohol abuse is as serious a problem as drug abuse and the last ten years have seen an alarming rise in the number of people who suffer from this problem. Severe alcoholism can destroy not just a person's health but may push his life into darkness from where he may never come back.
However alcohol abuse if caught on early can work as a blessing as the chances of making a successful recovery are improved significantly for the patient. Short term abuse is an extremely common problem and if it is let go for a period of time, it can turn very vicious for the addict as well as his or her family.
The Symptoms of Short-Term Alcohol Abuse
Although symptoms of a short term alcohol abuse are not as glaringly obvious as that of a full blown alcohol problem, there are certain warning signals that a person exhibits when he is suffering from an alcohol abuse problem albeit a short term one.
These symptoms are: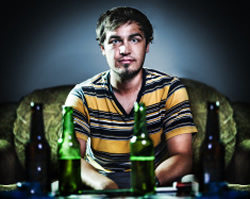 Drowsiness and slurred speech
Vomiting and nausea
Upset stomach and diarrhea
Distorted vision, hearing impairment and headaches
Difficulty in breathing as well as impaired judgement
Decreased perception and coordination
Anemia
Unconsciousness
Heavy drinking sessions can also lead to the person going into coma or suffer from black out sessions where the drinker has memory lapses and does not remember the events that occurred while he was under the influence
Short term abuse that includes binge drinking sessions may also lead to:
Injuries like car crash, falls or even drowning
Legal issues due to possible domestic violence, sexual assault
Alcohol poisoning
Seeking Help
Alcohol abuse even a short term one needs proper treatment so that the problem does not grow further and becomes a full blown case of alcoholism.  If you are seeking help for a possible alcohol abuse problem, call our rehab helpline today and let our expert rehab advisor find you the best possible treatment program for you issues.