Alcohol abuse or alcohol dependence is an illness where a person becomes physically as well as psychologically dependent on alcohol in order to survive every day. For an alcoholic, drinking becomes the most important thing in life and he will continue his habit even if he faces negative consequences like losing a job or separation from partner or spouse.
Most of the time the reasons or causes of alcoholism remain unknown. But dependency on a drug or alcohol develops when a person drinks so much that chemical changes occur in the brain. These changes expedite the feeling of pleasure when one drinks alcohol which in turn increases the desire to drink.
The Top Reasons for Abuse Alcohol
As mentioned above the causes of alcoholism still remain largely unknown but there are certain things that are responsible for promoting the dangerous habit of alcoholism. These are:
Curiosity is one of the major forming factor of human psychology human mind is always curious to try new things and with all the promotion of alcohol use we often find ourselves curious to consume alcohol
Stress reduction is another very important reason that leads to alcohol consumption and abuse. A lot of people use alcohol as a means to alleviate stress and get away from serious mental and emotional issues
Social gathering and social drinking often leads to the dangerous path of Alcoholism when a person starts drinking heavily and regularly with friends
Peer pressure remains one of the top reasons of alcoholism. Most of the time young people find themselves in situation where alcohol is present and they are reluctant to say no. This type of peer pressure leads them slowly towards alcohol dependence.
How to Stop Abusing Alcohol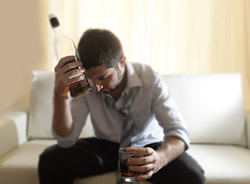 You can stop alcohol abuse by acknowledging that you have a problem and getting help from a counselor or alcohol rehab center.
If you or a loved one needs to find an alcohol rehab center for a loved one then our rehab helpline number is always available for you. Call us today and our expert advisor will help you find the best rehab center near your area.