What is Ecstasy?
Ecstasy is an illegal drug, lethal drug patented in Germany before World War I and most often associated with large dance or rave parties. It is a hallucinogen structurally similar to both amphetamine and mescaline and not tested on humans until 1970s. The drug is also known as MDMA or 3, 4-methylenedioxymethamphetamine readily available and teens can easily buy it on the street.
Street Names for Ecstasy
X
Essence
Disco Biscuit
Go
Hug Drug
Love Drug
Scooby Snacks
Wheels
Why is Ecstasy Addictive?
Ecstasy pills may contain a number of chemicals that may be addictive. Of these chemicals two most common addictive drugs found in ecstasy pills are amphetamines and caffeine. Tests performed by the EcstasyData.org found that less than 0.1% of tablets contained opiates.
Prevalence of addiction to Ecstasy-who is addicted to the drug and is this type of addiction rising?
Ecstasy had become a club drug in the U.S., and other parts of the world by mid-1990s. Gradually with the increased prevalence of addiction, a dangerous trend has become pervasive and in some cases proving fatal. Those who are already addicted attempt to prolong the effects of the drug by using multiple doses in one night or combining Ecstasy with other drugs or even alcohol.
Signs of Ecstasy Addiction
Exhibiting happiness bordering on euphoria
Feel less inhibited
A sense of general well being
Depression-most users will experience in the days that immediately follow ecstasy use.
Lethargy while coming down from ecstasy
Depression-related fatigue
Impaired thinking and memory problems
Exhibiting extreme irritability and appearing jittery
Weight Loss
Teeth grinding and jaw clenching
Ecstasy Withdrawal Symptoms
There is a long list of symptoms mentioned in various sources for Ecstasy withdrawal. Some of the symptoms are listed below:
De-personalization
Sleeplessness
Paranoid delusions
Anxiety
Depression
De-realization
Agitation
Panic attacks
Psychosis
Types of Ecstasy Rehab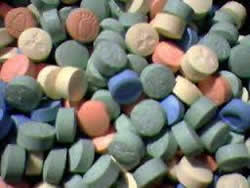 There are several types of ecstasy addiction treatment programs and depends totally to the extent the individual is affected, but the most effective of all methods includes inpatient treatment programs under 24-hour medical supervision during detox. The outpatient programs may suit those who are not severely addicted. The chances of relapse are very high in ecstasy addiction cases.
How to Find Ecstasy Rehab
Few centers exist that offer exclusive treatment for Ecstasy addiction, however many of the drug rehab centers offer treatment programs for people addicted to Ecstasy.