Things You Should Know About Outpatient Rehab
If you've been having difficulty with drugs or alcohol, but weren't sure about taking weeks of from work or school for inpatient rehabilitation, outpatient rehab might be an option. If you can find a doctor that will recommend an outpatient rehabilitation program, you may be able to begin the journey to sober living, without the inconvenience of an inpatient detox program.
What Is Outpatient Rehab?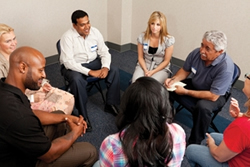 Outpatient rehab programs focus on helping addicted individuals get clean, without checking in to a treatment facility. This type of program allows patients to attend therapy, take prescription medication to help them get clean, and focus on recovery – all on an outpatient basis. If you have other responsibilities, like a family or full time job, outpatient rehab may be a good option for you.
Who Needs Outpatient Rehab?
Individuals who are addicted to illegal drugs, prescription drugs, or alcohol may benefit from an outpatient rehab program. If you're having difficulty imagining a life without drugs, or are experiencing problems in your every day life due to your drug or alcohol use, a rehabilitation program can help. If you don't have the time to participate in an inpatient program, or feel that you need to attend work or school while detoxing, an outpatient rehab program may be right for you.
What Happens in Outpatient Rehab?
Once you've decided to enter an outpatient rehabilitation program, you'll need to visit your medical doctor for a referral. He or she will be able to recommend an outpatient treatment facility in your area. Once you've chosen a program, they'll check with your insurance company to see if the expense of rehab is covered. If it is, you'll be able to begin treatment as soon as a spot opens up in the program.
You'll likely attend outpatient rehab daily or every other day. You'll be able to detox under the care of a doctor, with medication administered as necessary. You'll also be able to participate in individual or group therapy programs, which will allow you to learn the coping skills you'll need to live a sober life. After rehabilitation, you'll be assigned a doctor and a therapist to follow up with. You may also be assigned a support group to attend on a regular or semi-regular basis.
Benefits of Outpatient Rehab
If your drug addiction is not severe, or if you need to detox from drugs while taking care of other responsibilities, such as childcare or work, outpatient rehab may be right for you. An outpatient rehabilitation program will allow you to get the help you need, without checking in to an inpatient treatment facility.
Outpatient detox programs allow you to work with doctors, counselors, and other medical professionals to get the help that you need, without having to miss weeks or months of work to do so. This type of program is especially effective for parents and professionals who want to get the help they need, without raising eyebrows by checking into a treatment program.