What is an Intensive Outpatient Program?
Intensive Outpatient Program (IOP) is a type of primary treatment program that is prescribed for certain cases by a clinical and medical assessment. An IOP is usually prescribed for those patients who do not require medically-supervised detox. Intensive outpatient treatment allows the patients in the recovery process to continue recovery therapies after detoxification process is over. These intensive yet part-time programs are designed to accommodate both professional and personal life of the patient. These programs allow the patient to get ready with a long term recovery plan right at the start of the treatment instead of waiting for the treatment to be over and you are out of the rehab center.
What is involved?
An Intensive Outpatient Program provides the patient group therapy as well as individual therapy sessions that are usually kept on a weekly basis while the patient is in treatment. The group therapy sessions involve small groups that do not exceed 10 people.
Most Intensive Outpatient Program provides services in the following areas:
• Post-Acute Withdrawal Syndrome
• Managing cravings and urges
• Relapse prevention skills
• Understanding the progression of the disease of addiction
• Introduction to 12-step program
• Spirituality and stages of change
• Family education program
• Focus On Co-Occurring Disorders and the Effects On Addiction and Recovery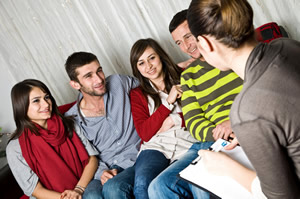 Depending on the individual needs of patients, they may also be referred to comprehensive mental health treatment, employment counseling and training in how to increase healthy life skills.
The Positive Results
An intensive outpatient program allows the patient to recover successfully from his addiction without the fear of going into relapse as the whole program focuses on keeping him away from his addiction while preparing him for a life outside the rehab center.
If you or a loved one needs to find a drug rehab center then our rehab helpline number is always available for you. Call us today and our expert advisor will help you find the best rehab center near your area.